Proverbs 1:1-4
Good Morning,
This morning we begin our journey through the book of Proverbs. C.I. Scofield, in his introductory remarks about Proverbs, states, "This collection of sententious sayings is divine wisdom applied to the earthly conditions of the people of God." Proverbs 1 begins by introducing its purpose: to know wisdom. Solomon also urges his son to learn wisdom and flee from sinners. In this first chapter, wisdom is personified and speaks as if it were a person.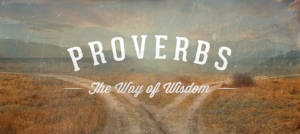 This book begins by identifying the writer as Solomon, as we progress towards the end of the Proverbs we will note the contributions of two others, we will visit this at that time.
Solomon presents a fivefold purpose for the book which points to the need for us to live a life guided by the wisdom provided by the Word of God. Let's visit these purposes and find out what characterizes a wise individual.
The first purpose is to know wisdom and instruction - vs. 2. The English word wisdom is found here for the first of 53 times in the book. God wants you and me to live life with wisdom given by Him through His Word and imparted to all who seek it. James 1:5 speaks of the possibility of also finding wisdom through prayer. "If any of you lack wisdom, let him ask of God, that giveth to all men liberally, and upbraideth not; and it shall be given him." Personally, I believe wisdom is our being able to see things as God sees them, having His mind and His heart.
The second purpose of the book is for us to perceive the words of understanding - vs. 2. Perception speaks of understanding, and understanding is knowing how truth applies to your life. The ideas of wisdom and understanding are twins in the Bible. Because, for one to gain wisdom, He must first possess understanding related to the issues of living life.
The third purpose of the book is for "To receive the instruction of wisdom, justice, and judgment, and equity." Here we are called to live wisely, or prudently (wisdom), to do what is right (justice), to make wise decisions (judgment), and to operate on the basis of fairness (equity). You must develop a basis for living life according to God's principles.
The fourth purpose of the book is "To give subtlety to the simple..." God wants us to grow. The word subtlety has the idea of being "savvy" or "prudent", while the word simple has the sense of being "naive". So God wants to give discernment to those who may be naive about how to live life. We can learn the hard way or God's way, you can choose.
Finally, the fifth purpose of the book is to give "the young man knowledge and discretion." Young people are often led and influenced into sin because of a lack of knowledge and discretion. The Lord wants to instil godly wisdom into the lives of young people.
I hope you weren't bored by the list of the five purposes for the book of Proverbs. I think there is much to be gleaned if you will study each of them. Now, we turn our attention to verses 5 and 6, "A wise man will hear, and will increase learning; and a man of understanding shall attain unto wise counsels: 6To understand a proverb, and the interpretation; the words of the wise, and their dark sayings." What characterizes a wise man? WISE PEOPLE WILL LISTEN!!! Learning never ends, formal education may end, but not learning. WISE PEOPLE WILL SEEK GODLY COUNSEL!!! Learn to invest in yourself by continuing to learn, and by seeking godly counsel. Finally, there are times in life when things are hard to understand, so dig deeper to better understand God's truth and ways (vs. 6).
May we be those who are ever growing in the ways of our Lord. Learn to listen, and seek godly counsel, you will be glad you did.
May the Lord bless you as you meditate upon His Word today.
Your Friend and His,
Pastor Abbott